The Ultimate Guide To Win The Buy Box On Amazon
Quick Summary:
All Amazon sellers want to win the Amazon Buy Box, which is similar to how all website owners want their site to rank on top of Google search. What is the Amazon Buy Box? What benefits does the Buy Box have that everyone wants to achieve? Let's find out with Gearment in this article! What […]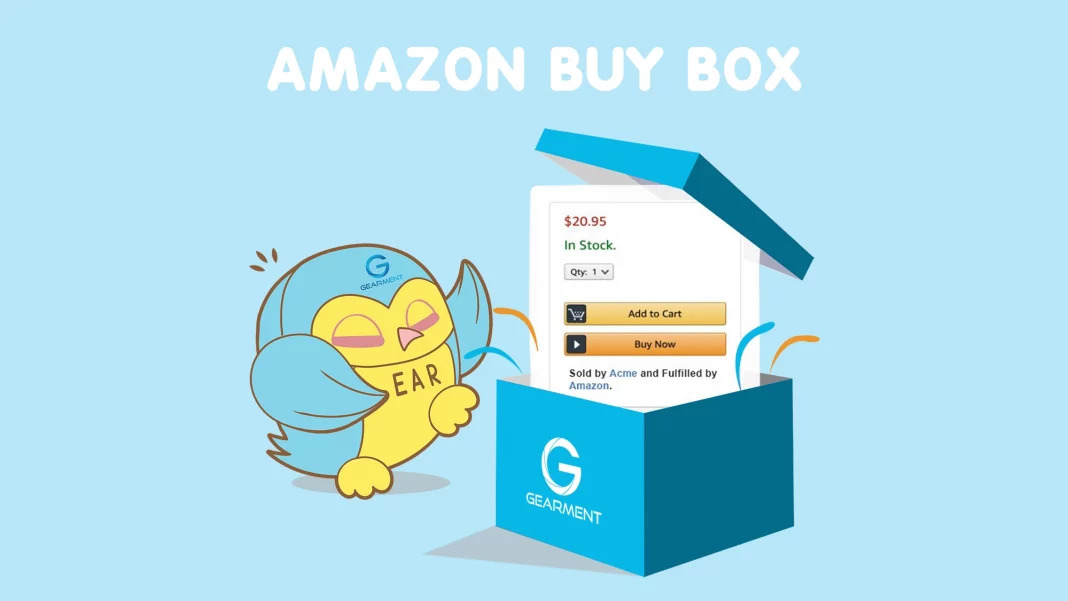 All Amazon sellers want to win the Amazon Buy Box, which is similar to how all website owners want their site to rank on top of Google search. What is the Amazon Buy Box? What benefits does the Buy Box have that everyone wants to achieve? Let's find out with Gearment in this article!
What is the Amazon Buy Box?
The Amazon Buy Box is a yellow box with the "add to basket" button on the product detail page where the customers can start the purchasing process by adding the items to their shopping carts. But not all sellers are eligible to the Amazon Buy Box, only businesses with excellent seller metrics stand a chance to win a share of this valuable real estate.
The Amazon Buy Box requirements
If you are a Fulfilment by Amazon (FBA) seller, you are automatically eligible for the Amazon Buy Box. If you are not, you must meet all of the requirements listed below. Amazon does not guarantee placement in the Buy Box.
Type of selling account: The sellers must have a professional account which costs $39.99/month to be eligible for the Buy Box. Here is how you can upgrade.
Performance Metrics: Your Order Defect Rate, Cancellation Rate and Late Shipment Rate metrics must be in good standing because that determine eligibility – the better you perform, the higher your chances are of becoming Buy Box eligible. Access Account Health page to check how you are doing.
Order volume: The sellers have to reach sufficient order volume which varies among categories in order for Amazon Amazon to accurately assess your performance.
Why do you need the Buy Box?
All the sellers strive to win the Amazon Buy Box. Why is the Buy Box important for Amazon sellers?
Increase the chances of making a sale:
Owning the Buy Box guarantees to win you more sales. The Buy Box is the coveted selling spot, the first and primary call to action a consumer will see on a product listing page that helps your products be more visible to customers. In fact, 82% of Amazon website sales today go through the Buy Box.
Over 150.6 million mobile users have accessed the Amazon app. If you aim to reach mobile shoppers, that's another reason to motivate you to win the Buy Box. With desktop or laptop sites, the buyers can select the Buy Box products or select other sellers on Amazon Box, or even go to Offer Listing Page to have more choices.
But, the Buy Box is even more important to mobile sites because the Buy Box is directly under the product image. There is no other Amazon on Sellers box displayed on the mobile site. That means only the name of the Buy Box winner is displayed.
Winning the Buy Box has the significant bonus of customer trust. Most Amazon shoppers associate the Buy Box with high-quality customer service and top-notch products so they won't hesitate buying items with a Buy Box. It can be said that winning a Buy Box is more like a guarantee for the customers that makes them feel safer to spend more on your sto.
Amazon Pay-per-click (PPC) ads:
One of the benefits for the Amazon Buy Box winner is that you can create Amazon PPC ads for your products, optimizing a major traffic source for boosting sales, profit margins and scaling your eCommerce store on Amazon. Amazon only serves ads for only products with the Buy Box.
How to win the buy box?
It is not always easy for sellers to strike the perfect balance between customer service, price and a variety of other areas in order to win the share of Buy Box. Although you meet the required Buy Box eligibility conditions, you might not win the Buy Box immediately while there are many sellers on the same listing.
Amazon doesn't clearly state which factors its algorithm considers when assigning Buy Box to sellers, these are some suspected components that may help you increase your Buy Box ownership:
1. Be "Buy Box eligible":
Being "Buy Box eligible" is a very first step to win a Buy Box. "Buy Box eligible" is a status that awards to experienced sellers who have achieved the high level of performance on Amazon. If you wonder if your store is eligible for Buy Box or not, you can check this information in your Seller Central account.
2. Using FBA:
Good news for new sellers is that even if you are new, you still have a chance to win the Buy Box by using FBA as a fulfillment method. It is publicly informed on Amazon website that you are automatically "Buy Box eligible" immediately after you are a FBA seller. Also, the Amazon algorithm tends to prefer FBA sellers, helping them enhance their chance to win Buy Box.
3. Keeping stock available:
Stocking availability is the compulsory requirement. If you have no current stock for a product, you have no way to win the Buy Box. Customers who submit orders for products that are not in stock are likely to leave negative feedback, especially around the holidays. To ensure that buyers cannot place orders for out-of-stock items, keep in mind that your inventory should be updated and planned accordingly for things that sell quickly.
One tip that helps you manage your inventory availability is the Amazon Selling Coach which can show you low and out-of-stock inventory alerts, letting you know, in real time, when it is time to stock up.
4. Pricing competitively:
Keeping your price competitive is more than important to win a Buy Box. Do not forget the price here includes the price of your items and the shipping fee, so that you need to make sure you adjust the price correctly. Pricing is stated as one of the most essential factors that is evaluated on Amazon website, which you definitely should not ignore!
One tip is that you can view the price of the offer that is currently winning the Buy Box on the Manage Inventory page. In order to view the Buy Box price column, go to the Preferences page and enable display of the column. Buy Box prices are only displayed for "New" listings. This helps you make the better choice of pricing your items to be more competitive in order to win the Buy Box.
5. Choose the right fulfillment method:
The fulfillment method third-party the sellers choose has the direct impact on winning the Buy Box. How quickly you fulfill orders is another major metric Amazon considers when determining which seller will win the Buy Box. Gearment Fulfillment is a credible and reputable fulfillment center that you should consider since many of Gearment's sellers have succeeded on Amazon due to our speed-of-light processing and shipping time.
6. Providing good customer service:
Amazon measures customer service in several different ways, considering all the available metrics such as order defect rate, late shipment rate, on-time delivery rate, and cancellation rate to measure your Health Account. Staying tuned in to all aspects of your account health is a great way to ensure you are working toward winning the Buy Box and earning customer satisfaction and trust.
Late shipment rate and on-time delivery rate: For the greatest odds of winning the Buy Box, the sellers should aim to achieve 0% or less than 4% late-shipment rate and 100% or more than 97% on-time delivery rate. This metric can be viewed for the last seven and 30 days in Seller Central.
Cancellation rate: The sellers should aim to keep these percentages as low as possible. Still, based on the general rule, a cancellation rate of less than 2.5% is considered acceptable.
Order defect rate (ODR): ODR includes three types which are negative feedback rate, a-to-z guarantee claim rate and credit card chargeback rate. The sellers must keep an ODR below 1% to sell on Amazon, because all the seller accounts with an ODR over 1% might be deactivated.
7. Offering Amazon Prime and free shipping:
The sellers who offer faster shipping options are more likely to win the Buy Box. The best way to win the Amazon Buy Box is to match Amazon's own Prime delivery and get shipments to your customers within 2-day.
27/4 support
DM fanpage: Gearment Fulfillment
Email: [email protected]
Gearment website: https://gearment.com