Selling Print On Demand Shopify: An Ultimate Guide From A-Z
Quick Summary:
You want to try Print on Demand, and you want to know more about Shopify. Want to find a reliable supplier to help you sell more on Shopify? Don't worry, the next article will give you all the information and steps you need to link Gearment, one of the well-known companies in the Print-on-Demand market, with the Shopify App, which makes the steps easier and simpler.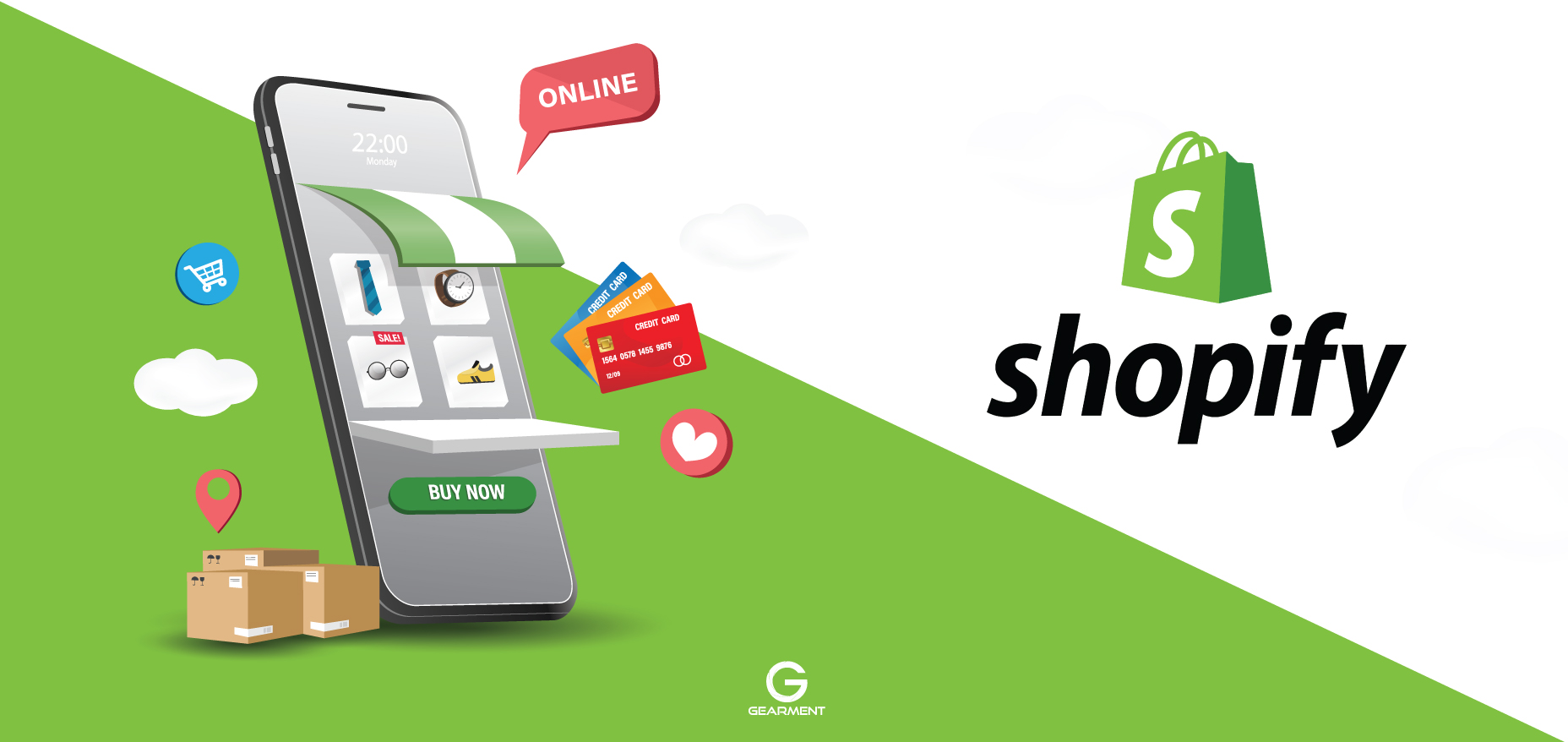 What is Shopify?
Shopify Inc. is a Canadian multinational eCommerce company headquartered in Ottawa, Ontario. Shopify is also the name of a complete eCommerce platform for online stores and retail point-of-sale systems that allows anyone to start, develop and manage a business online.
It sells as a subscription service that lets anyone build up an online store and sell products without different web development elements like a domain name, a third-party theme, and hosting. Print-on-demand Shopify store owners can also sell physical locations by using Shopify POS, Shopify's point-of-sale app, and accompanying hardware.
Shopify allows users to integrate platforms or applications, which means selling products or services directly through these social sites and POD fulfillment centers like Gearment. This platform also offers online retailers a suite of services, including payments, marketing, shipping, and customer engagement tools, even if you aren't a professional web designer.
Read more: Print-on-demand POD: Everything You Must Know
How well Shopify is doing?
Now, a quick look at development growth data shows an idea of how big the Shopify pie is:
Shopify accounts for 3.69% market share of eCommerce software and technologies worldwide as of April 2021
457 million customers purchase from Shopify merchants in 2020
$US988.6 million was Shopify's total revenue in the first quarter of 2021, with growth accelerating to 110% compared to the same period last year
2.297 million active websites are using Shopify in 2021
Why should you sell print on demand Shopify?
1. Low cost:
Cost may be the top category when it comes to choosing a suitable platform to start with. Unlike other giant platforms, Print on demand Shopify is more kind of a low-cost one for most sellers. There is literally no setup fee for new sellers. Shopify offers 3 pricing plans to help you find one that fits your needs and budget.
Basic Shopify: $US29/month and 2.9% + 30¢ per transaction
Shopify: $US79/month and 2.6% + 30¢ per transaction
Advanced Shopify: $US299/month and 2.4% + 30¢ per transaction
If you are unsure which pricing plan to choose, then register for a 14-day free trial to see how Shopify's features can help you to sell your products and build your business. You can always upgrade your plan to add new features and functionality to your store.
2. Friendly-beginner:
The display of the platform is easy to use even if you are not a high-tech person. This is a big plus for sellers and customers, which saves much time and makes it easier to optimize the experience for active users. You can definitely create your own digital store that's visually stunning even with your limited experience and design skills.
Not only that, it attracts a huge load of new customers and sellers, creating a crowded marketplace on the platform. Solid evidence is that more than a million businesses currently use Shopify in more than 175 countries across the globe.
3. Over 1,200 Shopify themes and templates
​​If you're looking for something that's easy to set up and lets you start your print on demand Shopify business immediately, look no further than Shopify themes. Shopify Theme Store provides hundreds of free and paid themes designed specifically for each field such as fashion, cosmetics, jewelry, furniture, etc.
What makes Shopify unique is that it provides sellers an opportunity to optimize their store's visual display which then gains more trust and favour from customers. The more convenient and eye-catching, the higher sales you may get!
Study the use of color and words that really come in handy in doing marketing for your business. Among millions of rivals, try to make your store look like the most unique, attractive and suitable to your target customer's style.
4. Multi-channel selling
Shopify is the best solution for multi-channel selling, you can sell in many different channels, but centrally manage in a single place. Multichannel Shopify makes it easier for merchants to manage and sell their products across all sales channels. Facebook Shop, Messenger, Instagram, Amazon, eBay, Etsy, etc are sale channels that you can connect with Shopify.
5. Huge load of free traffic:
Free traffic from the platform really comes in handy if sellers want to reach a massive number of sales. The more traffic of the platform, the higher chance a new potential customer finds out about your stores and buys your products. Shopify is a promising candidate on top of the list!
According to their report, Shopify experienced a growth of 52% in the number of consumers buying from merchants in only a year. This means that the chance for sellers to leverage the free traffic has been growing by 52% to nearly 457 million in 2020 and the number increases day by day. So imagine how giant it is in the next few years and doing POD Shopify is also a good choice!
6. Integrate with Gearment:
Luckily, Gearment has integrated with Shopify and we have been good partners for several years. This partnership can help you reduce the workload you need to do to connect your stores on Shopify to Gearment App.
Also, you can use the "Sync Order" feature to automatically sync and import hundreds of your orders to the Gearment App in just 30 seconds. Gearment will then process, print, fulfill and ship to your Shopify customers.
7. Giant and extended market:
Shopify has been extended demographically. Shopify marketplace is growing tremendously in many countries across the globe. You can join and leverage this opportunity by extending your businesses to countries where print on demand Shopify is strong.
Usually, sellers own a website and only reach a certain number of consumers. But when doing an online business like selling Print on demand Shopify, the opportunity to connect with your customers around the globe increases a lot. No matter where they are, anyone can access and buy all products you offer!
How print on demand Shopify works?
Step 1: Create your Shopify account
Head over to Shopify.com and create an account if you don't have one yet. Shopify offers 14 days free trial and no credit card is required for those who want to explore the market before officially jumping into. By entering your email and clicking "Start free trial,", you can start your own Shopify business.
Set up your store
When you start, you'll be prompted to enter:
Your store name, which will become your default URL (e.g., storename.myshopify.com).
Fill store information
Set up languages, billing, and shipping
Choose theme, logo and slideshow for your store
Set up menu bar and navigation bar
Step 2: Connect your Shopify store to Gearment
Go to admin page on your Shopify store → search "Gearment"
Click "Add app" to connect your Shopify store to Gearment app
Click "Install app" to confirm the installation
Enter your store's name
Step 3: Create your product and sync to Shopify store
Click "Create product" → Choose product → Fill in product details
Choose product → Select "sync product"
Choose platform and store → Click " Continue" Product synchronized successfully on your Shopify store
Product synchronized successfully on your Shopify store
Step 4: Sync orders from your Shopify store to Gearment app
Click to the "Order → All order" to sync orders → Fill in the form and click "Sync order → Click to the "Sync order" button
Step 5: Match product
Select the order → action → match product to match product
2. Fill in the product information and upload design → Choose "Save"
Step 6: Order payment
Select the order → Click "action" → Payment Order to pay orders
Note: 24hr after your successful payment, the tracking number will be automatically updated on the Gearment order tab and synchronized to your merchant shopify.
Step 7: All done! Gearment will print, pack, and ship for you!
Gearment support to sync order from Shopify store to Gearment app whenever receiving an order. Gearment will fulfill your orders and delivery directly to customers' hands.
To conclude, Shopify can absolutely bring you a great chance to develop your POD business. It's low cost, friendly-beginner, huge load of traffic, integrated with Gearment, extended market and millions benefits that you should not miss! Start selling on Shopify with Gearment for the best experience ever!