How Etsy Fulfillment And Etsy Fulfillment By Amazon Really Work
Quick Summary:
Etsy is a goldmine for online sales, with over 95 million active users including 4.7 million sellers in 2021. The handcraft online marketplace comes with the benefit of varied products, unique and loyal customers, zero monthly fee – perfect for any creative entrepreneur. Cause you know what Esty is and how to sell the right […]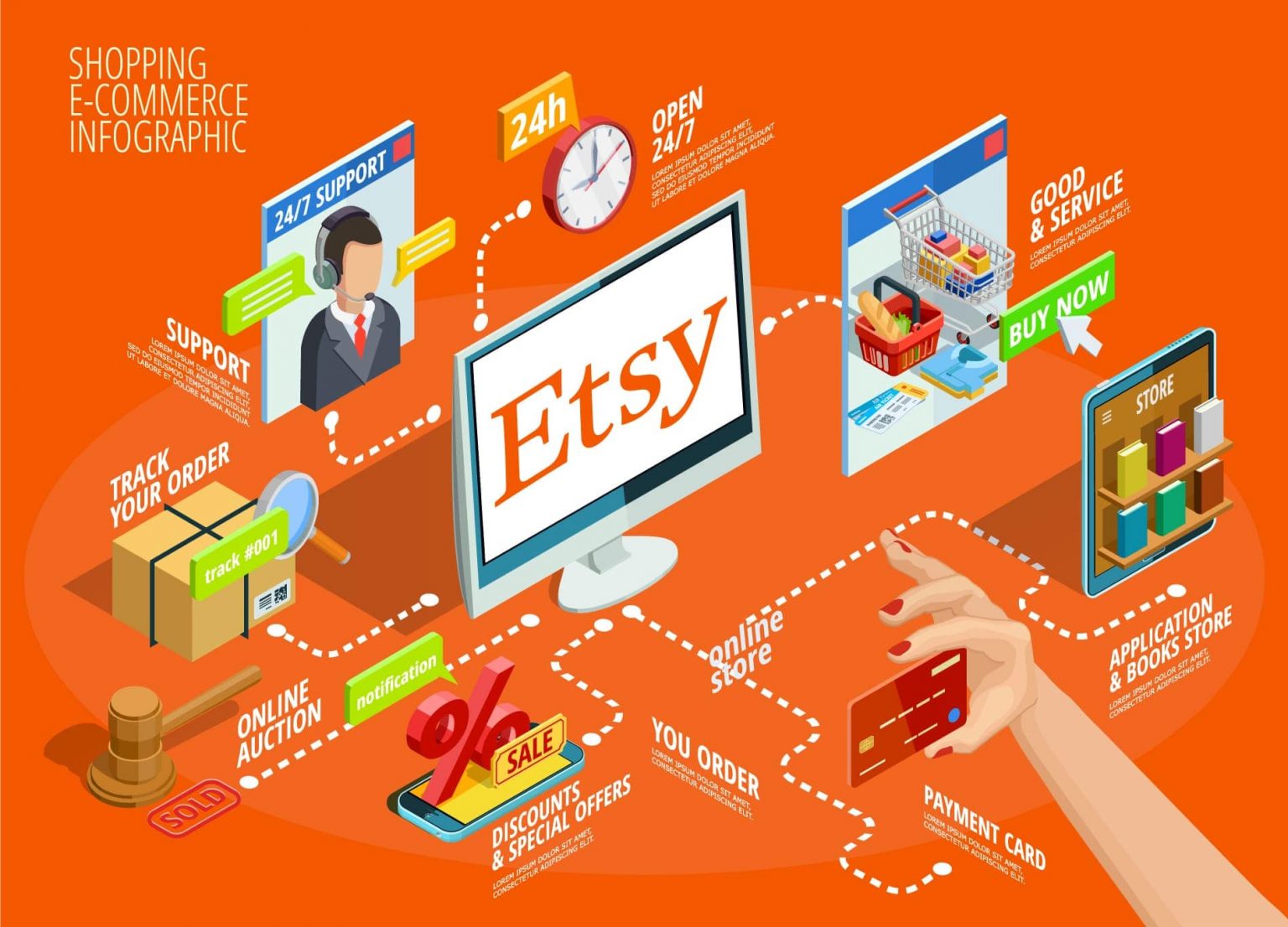 Etsy is a goldmine for online sales, with over 95 million active users including 4.7 million sellers in 2021. The handcraft online marketplace comes with the benefit of varied products, unique and loyal customers, zero monthly fee – perfect for any creative entrepreneur.
Cause you know what Esty is and how to sell the right products on Etsy. What about Esty fulfillment services? How does it work? Is it complicated? Together with Gearment, read on to learn all about your options for order fulfillment with Etsy.
How has Etsy been recently?
Back to 2005 when Etsy was officially launched as a marketplace for indie artists to sell unique handmade and creative goods to interested customers. What distinguishes Etsy from others is Etsy provides an amazing value to both sellers and buyers. The company helps not only sellers sell their handmade crafts and earn a living but also buyers own one of a kind products.
The success of Etsy goes to its unique business model. Unlike Amazon or eBay, Etsy has chosen a vertical platform model by confining itself to selling only craft items in various categories. Since its inception in 2005, Etsy has grown from a group of creatives and artists that could sell their products online to one of the most prominent eCommerce platforms and overtaken Ebay to become the second most popular marketplace outside of China.
Doing online business on Etsy is a good idea, isn't it? Etsy with 95 million global active users is a potential marketplace for you to expand your reach and put your products in front of millions of potential buyers as well as scale up your business globally. But, once your eCommerce business grows in size and gains more traffic to your site, it can become overwhelming for you to fulfill orders quickly enough, resulting in disappointment for customers. While big operations typically are equipped to handle customer order fulfillment themselves, outsourcing fulfillment service is a cost-effective solution for eCommerce companies or small businesses.
So, does Etsy provide fulfillment service?
Unlike Amazon, Etsy doesn't provide their own Etsy in-house fulfillment service. That means you have to fulfill orders by yourself or work with third-party fulfillment service providers. While Etsy fulfillment doesn't exist, the company has made the order fulfillment process easier and more affordable with tools such as shipping labels, calculated shipping, and shipment tracking.
Etsy Shipping Labels let you ship orders with USPS, FedEx, or Canada Post right from your Etsy shop. Once you purchase a label for an order, the order is automatically marked as shipped. Then just print the label out and your item is ready for delivery. Its cost depends on the origin, destination, weight, and dimensions of the package. When you purchase an Etsy shipping label, you can preview the cost after you add the package details. The cost of each purchased shipping label will separately appear in your payment account.
Benefits Of Etsy Fulfillment
1. Real-time tracking:
In the thriving eCommerce era, both customers and sellers are in need of getting to know where the parcel is and how far it is to the final destination. Making the real-time tracking exist to meet this need as well as minimize customers' anxiety and remorse. Since eCommerce keeps driving the retail shopping landscape, real-time tracking has become significantly important to its success.
Acknowledging all of that really matters in this technological world, Etsy provides a feature, called shipping label, which has the tracking numbers that allow sellers and customers to track parcels on their way to delivery. Timing of all processes such as when the order is placed, when it is picked up, when it is delivered… will be probably published on the website. If you are used to Amazon, we can say that the two systems work similarly.
With it being said, Etsy has currently worked with world-class shipping carriers such as USPS, FedEx or Canada Post for a long time. Leveraging this partnership means that your package will be treated as a tier account item rather than a general customer. It's a worth-considering bonus point for your eCommerce stores.
2. It's convenient for sellers:
If you are an Etsy seller and can't carry out the delivery processes, it's super convenient for you to buy Etsy shipping labels for all of your orders. Most burdens will take off of your plates from the moment shipping carriers receive your parcels. This saves much of your time and the effort you need to put in the processes that you don't specialize in.
Not only that, Etsy always wants to make it as easy as possible for vendors to ship their goods to anywhere they want in the world, creating a supportive delivery marketplace! With a package limit of 150 lbs, most vendors will find the service adequate.
There is no effort going to the post office needed to take and print the shipping labels. With Etsy shipping labels, there's often no step to get involved with a post office at all: the platform allows you to print postage information for many shipping services from your account, right at your house. Completely convenient!
3. 100% prevent disputes caused by shipping issues
Using Etsy shipping labels will help sellers in minimizing shipping-related complaints and you will have a reasonable reason to claim with the platforms rather than completely taking responsibility as normally.
The use of Etsy shipping packages means that the shipping carriers partnering with Etsy must carry all steps and that disputes related to delivery are no longer of your responsibility. This is really important when you open an online store on an eCommerce platform that prioritizes the customer experience more than anything else like Etsy. Sometimes even a dispute that is not your fault or even out of your control may consequently cause the worst case in most sellers' nightmare – account suspension.
Knowing its severe consequences, we highly recommend you to avoid disputes that are irrational or not on your plates to a bare minimum by using Etsy shipping labels which has the power to prevent 100% shipping-related disputes.
What is Etsy fulfillment by Amazon?
A surprising fact that you can use the fulfillment service from Amazon FBA to fulfill your orders from other selling channels, specifically Etsy. It is a very huge deal for many multi-channel sellers who would like to manage their inventory all in one place. Using Amazon FBA as a secondary warehouse to fulfill your orders has simplified the logistics and fulfillment process for businesses who have a good portion of sales coming from their Amazon stores, as well as their websites.
Let's take a step back to examine what exactly fulfillment by Amazon is. FBA is a service offered by Amazon where it provides sellers a well-organized and modern warehouse to help sellers take the burden off of fulfillment things, such as storage, packaging, and shipping. Not only, you can also leverage the world-class logistics services from Amazon which has already shaped the new expectation from the customers regarding delivery time of 2-day shipping. Obviously, some specific fees will be charged for the use which you can check here!
If you are an Etsy seller and struggling with either warehousing or shipping processes, you are really stuck as Etsy does not offer any in-house fulfillment service for sellers. But hold on! Etsy fulfillment by Amazon may be a great solution for you.
Etsy fulfillment by Amazon is not a rare concept in the eCommerce industry as using FBA now can fulfill orders from other platforms like Etsy. When it comes to Etsy, we would normally see it as anti-Amazon but in fact, this "integration" really comes in handy for multi-channel sellers who both sell on Amazon and Etsy, or even if you don't sell on Amazon, FBA still can be a fulfillment partner for your Etsy stores.
How to buy shipping labels on Etsy?
If you use one of the shipping carriers mentioned below, you can purchase a shipping label right on Etsy, which can be printed from the comfort of your own home or office. This means less time at the post office, access to some postage discounts, and you can easily request refunds for unused labels.
Go to "Shop Manager" → choose "Orders & Ship" → find the order you want to buy a shipping label for → Select the icon of a van to purchase a shipping label "Get shipping label".
Ship from: Fill out the "Shipping information" for the package. Under "Get shipping labels for", check that your is correct. Select "Edit" if you need to change the addres.
Attention: If you're shipping this order internationally, fill out the customs form.
Choose shipping carriers (FedEx or USPS in the US, and Canada Post in Canada) → Choose shipping method, package type, weight, and other details. Click here for more information about product dimension.
Note: You have to select appropriate package type
Package/thick envelope: T-shirt, mask, and pillow
Irregular/unsual package: Mug, tumbler, and petbowl
Roll: Poster
4. Click "Confirm & Buy" → Print shipping label
What information is required to purchase a shipping label?
You have to fill in the shipping information to accurately estimate the cost of your shipping label.
Package weight: The weight of the package.
Package Type: The Package Type depends on how you package the order.
Length, Width, Height: The physical dimensions of your package.
Delivery service: The delivery service determines how quickly the order ships to the buyer, and affects the price of shipping.
While Etsy fulfillment does not exist, Etsy does try to provide some useful shipping services to help make fulfillment easier. Beside Etsy fulfillment by Amazon, you can use an outsourced Etsy fulfillment partner like Gearment for print-on-demand products. They handle the distribution, stocking, picking, packing, and shipping of your Etsy orders for you.
Etsy is a magical marketplace for buyers and sellers, selling on Etsy is not difficult and you can start right away. We hope this information provides you with everything to get set up and start selling on this platform.